Team Name: Core Crusher
Specialty: Close Quarters Combat
Team Emblem:
Team History:
Representatives of the peace-loving cyborg race, Fortran. However, when the news of the Otokoy Fleet's invasion came, the Fortran's decided that they need someone to protect them and help the other races. The team members, Axl, Xros, Phillia, Halphas, were the race's first try in producing combat units. Once they see the success of the four, they could create more units to help. The team, considering that they were all built in the same timeframe, considers themselves as brothers and sisters.
Team Members
Name: Axl
Age: 4 months
Gender: n/a (Personality: Male)
Bio:
The Core Crusher team leader. A young but serious mech with a CPU that specializes in strategy. Level-headed, he keeps calm even when the going gets tough. Fair towards everyone on his team, he would do everything he can to repel the enemies and make sure that his brothers and sister would come back alive. Aside from being a strategist, Axl is also a master swordsman.
Weapon:Beam Katana
Powers/Abilities:
Expert Swordsman
Excellent War Forecasting abilities
Items: Plasma Grenades
Name: Xros
Age: 5 months
Gender:n/a (Personality: Male)
Bio:
The team's assassin and would love nothing more than to fight. A mech with an unpredictable personality. Brash and impulsive, he would charge away to the battlefield without thought, which aggravates his leader to no end. He likes to taunt his enemies and, if given the chance, enjoys giving his enemies a slow and painful death. He feels aggression towards his brother, Axl, as the latter is a stickler for the rules but deep in his core, he still cares for his team.
Weapon: Beam Katar
Powers/Abilities:
High Speed Movement
Cloaking ability
Items:
Disrupter System-a module equipped to Xros's frame that allows him to send interference to his enemies' surveillance and tracking systems.
Name: Phillia
Age: 4 1/2 months
Gender: n/a Personality: Female
Bio:
The lone girl and medic in the team. Built as a support unit, Phillia stays back and helps her teammates and other injured by healing them. Having a bubbly and outgoing attitude, she likes to makes friends with others and tries to keep the tension among her team to a minimum. Even though she may not be much of a fighter, don't let her angelic face fool you, she is a master of martial arts and can protect herself when she needs to. She holds special feelings for her leader, Axl, but it seems that the latter is oblivious to her attraction.
Weapon: Gauntlets (underneath the gauntlet is a healing unit that is attached to her hands)
Powers/Abilities:
Martial Arts Mastery
Healing ability
Items:
Hyper Thrusters-a prototype set of boosters allowing Phillia to escape potentially dangerous situations
Name: Halphas
Age: 6 months
Gender:n/a Personality: Male
Bio:
The weapons expert of the team. He has a wide assortment of blasters and melee weapons but he loves his most powerful weapon, the Andromeda Cannon. He takes pride in keeping his team's weapons in top shape. Belying his size and job, he is a gentle giant. He is kind and courteous and hates starting arguments. He likes to stroll around nature during his free time. As the eldest of the group, he takes his older brother position seriously, providing words of wisdom and stopping arguments. Though his specialty is long range weaponry, he is surely no sitting duck in hand to hand combat. He utilizes the great brute strength in his body to attack. To defend himself, aside from having a sturdy frame, he is also equipped with a shield generator.
Weapon: Andromeda Cannon
Powers/Abilities:
High Strength
High Defense
Items (max of 3):
Overmax Shield-A force field generator
Descriptive Pic of the team:
Top: Halphas, Left: Xros (I know the pic shows that it's a girl but just think of it as a male unit), Right: Phillia, Middle Bottom: Axl
Team Name: Beast Hazard
Specialty: Frontliners
Team Emblem:

Team History:
Representatives of the hunter race, Morphians, Rhinox, Fang, Leor, and Geo, were designated as one of the race's teams to help fend off the Otokoy invasion. All, except Geo, have the ability to morph into an anthropomorhic version of an animal while still keeping their humanity with them.
Team Members:
Name: Rhinox
Age: 36
Gender:Male
Bio:
The team leader. His animal form is a humanoid rhinoceros. He is a general in his race's army. A wise and friendly leader, he constantly motivates his team members to get ready for battle. This especially helps his introvert son, Geo. When off duty, he could be seen training or spending time with either Fang or Geo.
Weapon: Bone Axe
Powers/Abilities:
Morphing Ability
Great strength
Items:
A small sack of herbs used to counter pain
Descriptive Pic:
Name: Fang
Age: 33
Gender:Female
Bio:
The team gunner and Rhinox's fiancee. Her anthropomorphic animal form is that of a cheetah. She is Rhinox's Lieutenant in the Morphian army and they planned to go get married once the war was over. She is an expert marksman and provides cover fire for the top two frontliners: Rhinox and Leor while protecting Geo. Born from a well known family, she acts like a high class woman and likes top class entertainment but also enjoys leisure activities like carnivals.
Weapon:
Laser Dual Pistols
Powers/Abilities:
Morphing Abilities
Sharpshooter
Items:
A belt full of battery packs for her guns
Descriptive Pic:
Name: Leor
Age: 34
Gender: Male
Bio:
A former murderer that turned a new leaf. After being caught, he was either to be put to death or serve the military. He chose the latter and quite enjoyed his job. A foul-mouthed man who boasts his skill and believes he is the strongest in the team, which he is yet to prove by beating Rhinox. His beast form is that of a lion. He likes picking fights with everyone and teases their team's youngest member, Geo, which angers his leader. He is in love with Fang, even though she has turned him down numerous times.
Weapon:
Bone Claws
Powers/Abilities:
Morphing ability
Items:
Small vials of poison liquid
Descriptive Pic: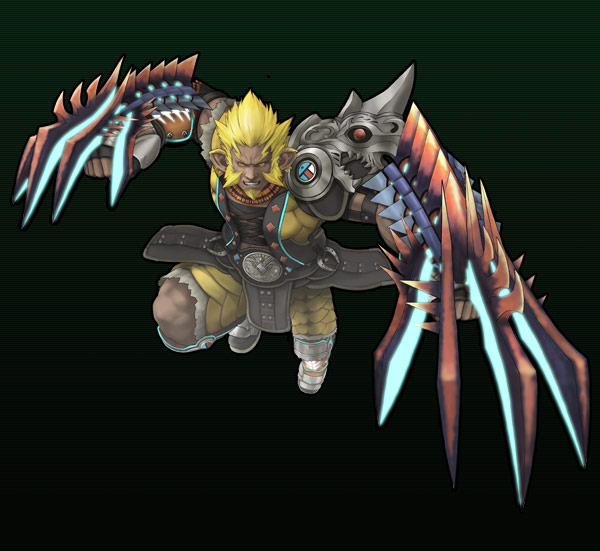 Name: Geo
Age: 17
Gender: Male
Bio:
The team's supporter and adopted son of Rhinox. He is a human; thus, no beast form. He was found by the latter in one of his skirmishes through a human colony that was ravaged by an enemy race during a war 14 years ago. Though the Morphian government was apprehensive, they allowed Rhinox to adopt the child after much pleading. Treated as an outcast by morphians of his age, he usually just stays at home reading and studying about the world. Rhinox tries to teach Geo his art of fighting but the boy had a much too weak body for his style. In his studies, Geo learned how to use Arcana Tech, a power developed by human scientists that is similar to magic. He uses this power to heal and power up his teammates. He enjoys spending time with his father but is a bit shy towards Fang.
Weapon: Energy Staff
Powers/Abilities:
Arcana Tech expert
Items:
A small computer attached to his wrist that shows a list of spells that he can perform.
Descriptive Pic: